https://www.linkedin.com/company/genscript-corporation/
With one click, MAXIMIZE the chance to obtain functional proteins
GenSmart™ Codon Optimization
As a leading provider of synthetic DNA, GenScript is dedicated to using the latest advancements to update existing algorithms for improving gene expression. Our most recent development is GenSmart™ Codon Optimization; a free, user-friendly online tool that enables you to optimize the design of wild type or recombinant gene sequences towards higher expression in prokaryotic and mammalian expression systems.
GenSmart™ Codon Optimization uses a newly-designed algorithm based on the "Population Immune Algorithm", which takes advantage of both population genetics and immunology theories. In this approach, more than 200 factors involved in gene expression, including GC content, codon usage and content index, RNase splicing sites, and cis-acting mRNA destabilizing motifs are screened and validated. Instead of applying a single-factor simulation to computing, a multifactor approach is employed to ensure that all key factors in a certain target gene sequence carry weight. As a result, each gene optimization is fully customized to maximize the chance of obtaining a functional and active protein.
Compared to similar tools, GenSmart™ Codon Optimization is more accessible and user-friendly. All of the parameters are integrated into the algorithm and require no input from you. All that is required is your sequence and desired host organism; the rest is taken care of by the optimization tool. In addition, your optimized sequences can be easily ordered through GenSmart™ Instant Quote System or archived for future use.
Upgraded! GenSmart™ Codon Optimization has been applied to CHO, Human, E.coli, T cell, Yeast and Insect species now!Try it Now
Why GenSmart™ Codon Optimization
Accessibility: Free, online tool; just one click away to your optimal sequence
Comprehensive Factor Analysis: Over 200 factors screened and validated
Advanced Computing: Patented population immune algorithm to ensure the best output
Individual Sequence-Based: Highly customized computing to avoid weight allocation bias on key factors
Easy Ordering: Seamless integration with GenSmart™ Instant Quote System
What the Data Say
1. GenScript Data
Objective: To assess the performance of GenSmart™ Codon Optimization tool in increasing the expression of JNK3 and GFP proteins
Approach: Cloned the wild type and sequence-optimized sequences of each gene in an expression vector and assessed protein expression from three different clones in CHO 3E7 cells through Western blotting
Results: All three GFP and JNK3 clones from sequences optimized by GenSmart™ showed a significant increase in protein expression by 18- and ~8-fold, respectively, compared to non-optimized native gene sequences.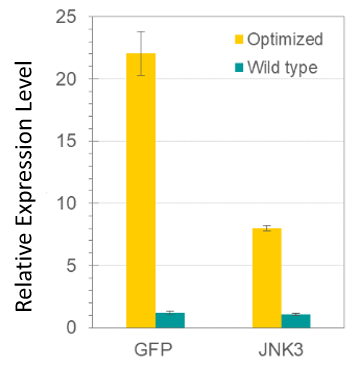 2. Independent Data
Objective: To assess the editing efficiency of BE4 base editor variants optimized by different codon optimization tools as part of the overarching goal of investigating the effect of gene expression on gene editing
Approach: Optimized the nuclear localization codon of BE4 with tools from IDT, Coller, GeneArt and GenScript, and then assessed gene expression and editing efficiency in HEK293 cells
Results: While codons optimized by tools from GenScript (GS), GeneArt (GA) and Coller (JC) improved editing efficiency relative to IDT's, chimeric variants optimized by GenScript's codon optimization alone outperformed other's by inducing 1.8 fold higher editing efficiency
Reference: Dr. Liu's laboratory at Harvard University; Koblan WL et al. 2018. Improving cytidine and adenine base editors by expression optimization and ancestral reconstruction. Nature Biotechnology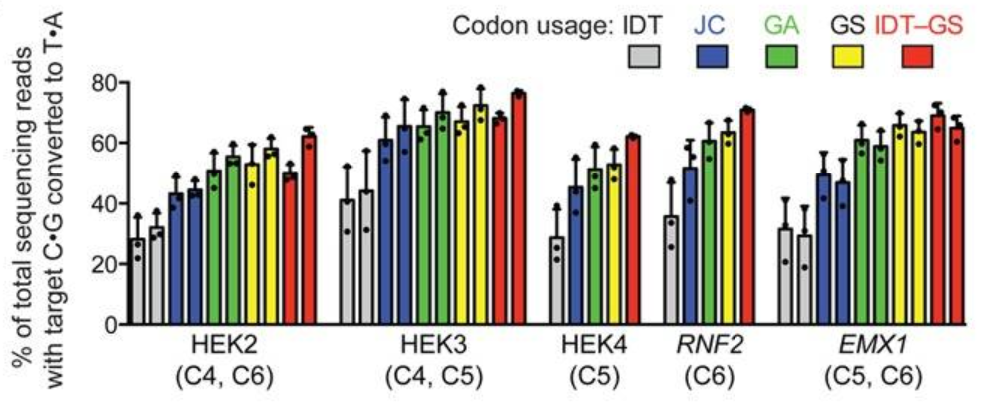 Free Sample Promotion Codes & Coupons Quick Order Open 24 Hours Get Support
Resources
Support
Company
Shopping Tools
---