http://www.google.com https://www.insidehook.com/daily_brief/science/crispr-co-inventor-calls-for-increased-regulation?fbclid=IwAR34GeEzhtVMWyJNHGF3uYmaHlM8Vy2etLAkNehKwsF_twLP7t1qT24HxX4
https://www.technologynetworks.com/neuroscience/articles/its-alive-cautious-excitement-meets-claims-of-first-effective-alzheimers-drug-326361?fbclid=IwAR0RseC4DZOzoH4__GUVkbO6aWMvVmUSj3sxqBWXA_XIfiEx9nTxNYRkHbk
https://www.nature.com/articles/d41586-019-00983-4
https://www.ncbi.nlm.nih.gov/pmc/articles/PMC5253109/
When — or if — NASA finds life on Mars, the world may not be ready for the discovery, the agency chief says
By Scottie Andrew, CNN
Updated 2122 GMT (0522 HKT) September 30, 2019
PauseMuteMuteCurrent Time2:28/Duration Time8:43Loaded: 0%Progress: 0% FullscreenNow PlayingThis is what life on Mars…
(CNN)NASA's next mission to Mars will be its most advanced yet. But if scientists discover there was once life — or there is life –on the Red Planet, will the public be able to handle such an extraterrestrial concept?NASA chief scientist Jim Green doesn't think so."It will be revolutionary," Green told the Telegraph. "It will start a whole new line of thinking. I don't think we're prepared for the results. We're not."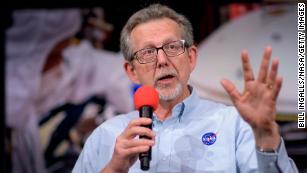 NASA Chief Scientist Jim Green thinks news of life on Mars is coming soon, and the public isn't prepared to hear it.The agency's Mars 2020 rover, set to launch next summer, will be the first to collect samples of Martian material to send back to Earth. But if scientists discover biosignatures of life in Mars' crust, the findings could majorly rock astrobiology, said Green, the director of the Planetary Science Division at NASA."What happens next is a whole new set of scientific questions," he said. "Is that life like us? How are we related?"The Mars 2020 rover, along with the European Space Agency's ExoMars rover, will drill into the Martian crust. The surface of the Red Planet is believed to be radioactive, soif there is life on Mars, it likely livesbelow ground."We've never drilled that deep," he told the Telegraph. "When environments get extreme, life moves into the rocks."The principle's been proven on our home planet: After drilling miles into the Earth, researchers found more life in the Earth's crust than on its surface, he said."The bottom line is, where there is water there is life."And if the agencies' new rovers find proof that water once flowed on Mars, he said, the confirmation could come weeks or months of landing — so buckle up, space lovers. The realm of possibility might get much wider very soon.
The next mission to Mars
NASA's Mars 2020 rover will launch in July 2020 and land at the Red Planet's Jezero Crater in February 2021 (Mars is 140 million miles from Earth, after all). It's equipped with two high-definition cameras and a detachable helicopter to take aerial images of the planet's cliffs, caves and craters.The mission's main aim is to search for signs of life. The rover will look for past habitable environments, find biosignatures in rock and will test those samples back on Earth.But if scientists fail to find evidence of life, that won't end the hope for human exploration. Mars 2020 will test oxygen production on the planet and monitor Martian weather to evaluate how potential human colonies could fare on Mars.
Clarification: The headline of this piece has been changed to more accurately reflect NASA's chief scientist's comments regarding efforts to finding life on Mars.
Search
USFOLLOW CNN
---
© 2019 Cable News Network.Turner Broadcasting System, Inc.All Rights Reserved.CNN Sans ™ & © 2016 Cable News Network.
Skip to main contentSkip to main content
a nature research journalMENU
SubscribeSearchLoginNEWS AND VIEWS 10 APRIL 2019
A mouse model for the most common form of heart failure
A mouse model that replicates the clinical features of the most common form of heart failure opens a window on the mechanisms underlying this disease, and could help scientists to explore future therapies.
Heart failure is a lethal condition that affects at least 26 million people worldwide1. A preclinical model that faithfully recapitulates the most common form of this syndrome, known as heart failure with preserved ejection fraction (HFpEF), has been lacking. Writing in Nature, Schiattarella et al.2 report the development of a mouse model of HFpEF, and its use to identify a molecular pathway not previously known to have a role in this disease.Read the paper: Nitrosative stress drives heart failure with preserved ejection fraction
Heart failure has generally been seen as an inability of the heart to pump sufficient blood to meet the metabolic needs of the body. The weakening of the heart muscle is quantified by measuring the reduction in the percentage of blood in the heart expelled with each heartbeat, which is called the ejection fraction. This syndrome is referred to as heart failure with reduced ejection fraction (HFrEF)3. But in more than half of cases of heart failure, ejection fraction remains normal, although abnormalities in heart-muscle contraction can be detected with more sensitive tests. This form of heart failure is called HFpEF and is defined by impaired filling of the heart with blood4. Dysfunction in other organs, including the lungs, kidneys and skeletal muscles, is also likely to contribute to the symptoms of the disease.
Although the two forms of heart failure have similar symptoms, including shortness of breath, reduced ability to exercise, and fatigue, their mechanisms differ markedly. HFrEF is characterized by persistent activation of stress-associated molecular pathways in heart muscle cells (cardiomyocytes), leading to a decrease in the ability of these cells to contract, or to cell death. By contrast, HFpEF is driven by ageing, high blood pressure, metabolic changes associated with obesity and diabetes, and generalized chronic inflammation. These factors induce alterations in several cell types in the heart.
In HFpEF, the endothelial cells that line small blood vessels in the heart become dysfunctional and fail to synthesize adequate amounts of nitric oxide (NO), a substance involved in the relaxation of blood vessels. Connective-tissue cells called fibroblasts generate scarring. And the cardiomyocytes themselves become stiffer because of changes related to proteins involved in molecular signalling pathways and cellular contraction5. The end result is sluggish filling of the heart.
None of the existing therapies for HFrEF helps in HFpEF, and a good animal model for HFpEF has been lacking. Modelling HFpEF is challenging because of the complex interplay of many contributing factors and the plethora of clinical manifestations of the disease. Rather than recreating all the stimuli that lead to HFpEF, Schiattarella et al. combined two major risk factors — obesity linked with glucose intolerance (an inability to transport sugar efficiently from the blood into cells, which can lead to diabetes) and high blood pressure — in mice. The authors' reasoning was that each of these factors activates several disease-associated pathways.
Mice were rendered obese and glucose-intolerant with a high-fat diet. High blood pressure was induced by administration of a drug called Nω-nitro-L-arginine methyl ester (L-NAME), which inhibits the enzymes that are normally expressed at constant levels to catalyse the production of NO (called constitutive NO synthases). Mice treated in this way had several characteristics of HFpEF, including impaired filling of the heart, inability to exercise, lung congestion and increased levels of molecular markers of inflammation in the heart and blood (Fig. 1). Notably, ejection fraction in these mice remained normal up to at least 12 months of age, which is half the lifespan of a mouse.
The authors then used their model to investigate the role of misfolded proteins in HFpEF. These proteins accumulate in several disorders in which cardiac stress is present6, including HFpEF, and they activate a molecular program known as the unfolded protein response (UPR)7. Schiattarella et al. focused on inositol-requiring enzyme 1α (IRE1α), which is activated in response to cellular stress caused by an excess of misfolded proteins. IRE1α cuts the messenger RNA that encodes X-box binding protein 1 (XBP1) and transforms it into a shorter mRNA that encodes a protein called XBP1 spliced (XBP1s). XBP1s is a transcription factor that activates genes involved in the UPR.
Schiattarella and colleagues found that IRE1α activation and XBP1s levels were reduced in the hearts of HFpEF model mice, as well as in heart-tissue samples from people with HFpEF, when compared with those from healthy individuals (Fig. 1). By contrast, cardiac XBP1s levels were increased or unchanged in mice and humans with HFrEF. The decrease in XBP1s levels in the hearts of HFpEF mice was due to IRE1α modification by S-nitrosylation. This process, in which an NO molecule is attached to specific sulfur atoms on proteins, is known to decrease IRE1α activity8.
Although Schiattarella et al. did not identify the cells that produce NO, they observed that inducible NO synthase (iNOS), an enzyme that was highly expressed in their HFpEF model, promoted IRE1α S-nitrosylation. They went on to show that pharmacological or genetic inhibition of iNOS or cardiomyocyte-specific overexpression of XBP1s attenuated cardiac filling defects, the inability to exercise, and lung congestion in mice induced to develop features of HFpEF. These findings highlight the role of XBP1s loss in the mechanisms underlying this disease.
This work demonstrates that two common risk factors for HFpEF are sufficient to reproduce many of the manifestations of this disease. The authors' mouse model will be useful for dissecting disease mechanisms and developing new treatments. Although large-animal models are often valuable in studying complex physiological processes and testing therapeutics, the mouse has the advantage of being easy to manipulate genetically and having a short lifespan9. The latter factor will also facilitate the study of the influence of ageing, another key risk factor for HFpEF.
Some questions remain unanswered. The less-than-complete reversal of HFpEF disease manifestations observed in response to iNOS inhibition suggests that other molecular pathways are also involved in the reduction of XBP1s levels. More generally, the study explored a single candidate mechanism for this disease. It is likely that other mechanisms also contribute, and the new HFpEF mouse model provides an in vivo platform with which to define them.
Nature 568, 324-325 (2019)doi: 10.1038/d41586-019-00983-4
References
1.Savarese, G. & Lund, L. H. Card. Fail. Rev. 3, 7–11 (2017).
2.Schiattarella, G. G. et al. Nature 568, 351–356 (2019).
3.Bloom, M. W. et al. Nature Rev. Dis. Primers 3, 17058 (2017).
4.Dunlay, S. M., Roger, V. L. & Redfield, M. M. Nature Rev. Cardiol. 14, 591–602 (2017).
5.Shah, S. J. et al. Circulation 134, 73–90 (2016).
6.Wang, Z. V. & Hill, J. A. Cell Metab. 21, 215–226 (2015).
7.Walter, P. & Ron, D. Science 334, 1081–1086 (2011).
8.Yang, L. et al. Science 349, 500–506 (2015).
9.Valero-Muñoz, M., Backman, W. & Sam, F. J. Am. Coll. Cardiol. Basic Transl. Sci. 2, 770–789 (2017).
Download referencesshow more
Latest on:
Cardiovascular biology
Medical researchStructural insights into the mechanism of human soluble guanylate cyclaseARTICLE 12 SEP 19Targeting cardiac fibrosis with engineered T cellsLETTER 11 SEP 19Activation of PDGF pathway links LMNA mutation to dilated cardiomyopathyARTICLE 17 JUL 19
Nature Briefing
An essential round-up of science news, opinion and analysis, delivered to your inbox every weekday.Email addressYes! Sign me up to receive the daily Nature Briefing email. I agree my information will be processed in accordance with the Nature and Springer Nature Limited Privacy Policy.Sign up
RELATED ARTICLES
SUBJECTS
Get the most important science stories of the day, free in your inbox.Sign up for Nature BriefingClose
Nature
ISSN 1476-4687 (online)
Discover content
Publish with us
Researcher services
Libraries & institutions
Advertising & partnerships
Career development
Regional websites
© 2019 Springer Nature Limited
We've updated our Privacy Policy to make it clearer how we use your personal data.
We use cookies to provide you with a better experience, read our Cookie PolicyI UNDERSTAND
NNRNeuroscienceNews & Researchfrom TECHNOLOGY NETWORKS
It's Alive: Cautious Excitement Meets Claims of First Effective Alzheimer's Drug
ARTICLE Oct 23, 2019 | by Ruairi J Mackenzie, Science Writer for Technology Networks
Science Writer
@rjmsci Read Time: 3 min
American pharma giant Biogen has announced that its therapeutic compound for Alzheimer's disease (AD), aducanumab, is to be taken to the FDA for approval. Despite being seemingly killed off after a study in March produced disappointing results, new analysis suggests that aducanumab met its target endpoints. If confirmed, this would make aducanumab the first therapy able to slow cognitive decline in AD.
An unexpected reversal
After a series of high-profile failures, aducanumab was considered the last roll of the dice for pharmacological interventions targeting the pathological protein beta-amyloid, which is thought to have a central role in AD pathology.

In a Biogen press release, study lead Dr. Anton Porsteinsson said, "This large dataset represents the first time a Phase 3 study has demonstrated that clearance of aggregated amyloid beta can reduce the clinical decline of Alzheimer's disease, providing new hope for the medical community, the patients, and their families."

More measured praise was also forthcoming from leaders in the field not associated with the study: Professor Bart De Strooper, Director of the UK Dementia Research Institute, University College London, commented, "It is fantastic to hear of these new positive results emerging from the aducanumab trials. We currently have no effective treatments to slow or halt the progression of Alzheimer's disease and I hope this signifies a turning point."
Bigger dose, better results?
Aducanamab, a monoclonal antibody, targets both soluble and insoluble forms of beta-amyloid, clearing it from the brain. Biogen said that the study results published in March, which had raised fears around side effects such as brain swelling, had been based upon an "incorrect" futility analysis.

According to Biogen, the new analysis suggests that the now-positive result (it is incredibly rare for clinical trial results to be reversed in this way) was due to increased exposure to a higher dose of aducanumab.

Delving into the datasets released by Biogen will take some time, although some in-depth analysis can be found here. In summary, the drug was tested in two trials, one of which (named EMERGE) has proved to have statistically positive results in the new, larger analysis, whilst the other (ENGAGE) trended towards significance in a subset of patients who received the higher dose (but was still insignificant). Patients were assessed on both their amyloid burden, and their performance on a battery of standardized cognitive tests. On one test, the CDR-SB, a higher dose group showed a decline in their performance that was 23% slower than patients on a placebo. But the performance of participants in other tests was not significantly different, and any significance was only found in the EMERGE group. Why patients would perform worse in these different tests is currently unclear.
Contradictions need to be cleared
The data released by Biogen also contained some strange results, such as a worse performance in some tests by patients on a higher dose of aducanumab in ENGAGE, the exact opposite of the results from EMERGE. Whilst these concerns would normally move the FDA to order another trial using the conditions that proved positive in EMERGE, one might expect immense pressure to be put on the regulator to approve the drug, given the complete lack of other effective treatments.
A "shot in the arm" for AD research
One might desperately hope that an unusually cold winter signals a reversal of rising global temperatures, even if the great majority of data suggests otherwise. In the same way, researchers across the field will desperately hope that Biogen have got things right second time around, but they will be waiting with bated breath.

At the Society for Neuroscience's 2019 conference, Alzheimer's researcher Li-Huei Tsai told Technology Networks, "The news today this morning that Biogen put out is exciting. For Alzheimer's disease, in the last 15 years, there has not been a successful trial. So, if they succeed this time, I will say it's a very strong shot in the arm. I think we need some positive results."

Tsai went on to temper her praise with some words of caution, "But with aducanumab, when they halted the trial, they said there was no hope that this drug would ever succeed. I think right now this new information, even though it's exciting, I think when they designed the trial, they didn't really know what patient population to go into. It seems that it's not that everybody responded, only a very small population of people responded. I think there is still a need for something that can be beneficial to the many, many people who suffer from memory loss and dementia."
RELATED ARTICLES
Light and Sound Brain Wave Stimulation Shows Pre-clinical Potential As Alzheimer's TherapyARTICLE
Research presented at Neuroscience 2019, hosted in Chicago this week, has shown promising pre-clinical data in mice that suggests altering the electrical oscillations of neuronal networks with external light and sound stimulation might have brain-boosting effects that reduce pathology related to Alzheimer's disease (AD).

READ MORE
---
Merging With Machines: A Look at Emerging Neuroscience TechnologiesARTICLE
In this article we explore how emerging neurotechnologies are taking us from movement-controlled to mind-controlled machines and from machine extensions of ourselves to machines integrated into ourselves.READ MORE
---
Mouse Moms' Microbiota Lead to Altered BehaviorARTICLE
Research presented at Neuroscience 2019, the flagship conference of the Society for Neuroscience, has highlighted research at the intersection of three fascinating areas: neurodevelopment, the immune system and the gut microbiota.

READ MORE
---
To personalize the content you see on Technology Networks homepage, Log In or Subscribe for FreeLOGINSUBSCRIBE FOR FREE
RELATED CONTENTTAU Protein Aggregation Assay Relevance to Alzheimer's Disease and Tauopathies Research
---
Think You Know Transplants? Think Again: Five Recent Transplant Game Changers
---
Neurodegenerative Diseases and Neuroinflammation Pathways
---
TAU Protein Aggregation Assay Relevance to Alzheimer's Disease and Tauopathies Research
---
Exploring Cognitive Differences Between Men and Women
---
New Test Improves Diagnosis of Fragile X Syndrome
---
Animal Study Shows How Stress & Mother's Abuse Affect Infant Brain
---
Discovery in Monkeys Could Lead to Treatment for Blindness-Causing Syndrome
---
High-salt Diet Promotes Cognitive Impairment Through the Alzheimer-Linked Protein Tau in Mice
---
Privacy Policy & DisclaimerCookie Policy©2019 Technology Networks, all rights reserved
The latest neuroscience news
Ensure you keep up to date with the Neurosciencenewsletter.SUBSCRIBE FOR FREE