http://eara.eu/wp-content/uploads/2019/10/EARA-News-Digest-2019-Week-44.pdf http://eara.eu/en/about-us/ http://eara.eu/en/animal-research/statistics/
https://www.nasa.gov/exploration/systems/sls/multimedia/first-of-4-rs25-engines-attached-to-artemis-rocket-stage.html http://eara.eu/en/animal-research/animal-research-statistics-europe/
https://www.scientificamerican.com/article/the-cancer-obesity-time-bomb/?fbclid=IwAR3BS6EkP9DbrOvvHdP81WEyzcfbWkyVf_eO5rpAfAFOsiOQKequXudl19Y
SubscribeLatest IssuesScientific American
Search
SCIENTIFIC AMERICAN OCTOBER 2019
The Cancer-Obesity Time Bomb
Malignancies are on the rise in the most obese generation in history
Most of us recognize that obesity is not a benign condition. Diabetes, arthritis, plus heart, liver and gallbladder diseases commonly plague folks who carry major excess poundage. Less familiar is the risk of cancer. Being overweight or obese has been linked to at least 13 types of cancer. Obesity more than doubles the risk of the most common forms of uterine and esophageal cancer. It raises the risk of tumors of the colon, gallbladder, kidney, liver, pancreas, upper stomach and brain membranes by 50 to 80 percent compared with adults at a healthy weight, and it ups the odds for multiple myeloma and cancers of the breast, ovary and thyroid.
This is a preview. Make a selection below to access this issue.Already have access? Sign in.
Having trouble accessing this article? Please visit our FAQ page for more information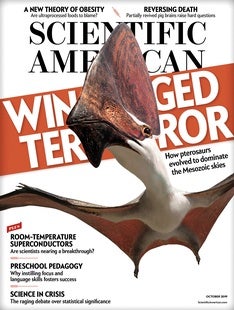 Digital IssueRead online or download a PDF of this issue.$6.99Digital Issue + SubscriptionThe digital issue plus 12 new digital issues and 4 years of archive access.$39.99Print + Digital All Access SubscriptionThis digital issue plus 12 new issues (in print, digital and tablet formats) plus archive access to 1845.$99.00Add to CartMore in the October 2019 issue of Scientific American
View Full ContentsVisit our Librarian Gateway for additional information on purchasing a site license to this and other products
Expertise. Insights. Illumination.
Discover world-changing science. Explore our digital archive back to 1845, including articles by more than 150 Nobel Prize winners.Subscribe Now!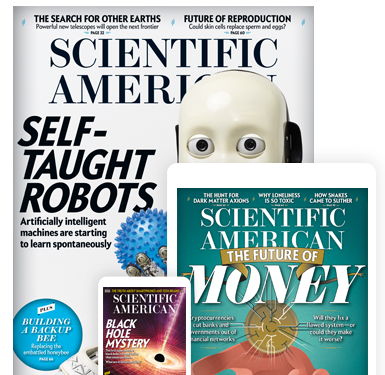 FOLLOW US
SCIENTIFIC AMERICAN ARABICالعربية
Scientific American is part of Springer Nature, which owns or has commercial relations with thousands of scientific publications (many of them can be found at www.springernature.com/us). Scientific American maintains a strict policy of editorial independence in reporting developments in science to our readers.
© 2019 SCIENTIFIC AMERICAN, A DIVISION OF SPRINGER NATURE AMERICA, INC.
ALL RIGHTS RESERVED.
The Health Effects of Overweight and Obesity
People who have obesity, compared to those with a normal or healthy weight, are at increased risk for many serious diseases and health conditions, including the following:1,2,3
All-causes of death (mortality)
High blood pressure (Hypertension)
High LDL cholesterol, low HDL cholesterol, or high levels of triglycerides (Dyslipidemia)
Type 2 diabetes
Coronary heart disease
Stroke
Gallbladder disease
Osteoarthritis (a breakdown of cartilage and bone within a joint)
Sleep apnea and breathing problems
Low quality of life
Mental illness such as clinical depression, anxiety, and other mental disorders4,5
Body pain and difficulty with physical functioning6
For more information about these and other health problems associated with overweight and obesity, visit Clinical Guidelines on the Identification, Evaluation, and Treatment of Overweight and Obesity in Adults pdf icon[PDF-1.25MB]external icon.
References
1NHLBI. 2013. Managing Overweight and Obesity in Adults: Systematic Evidence Review from the Obesity Expert Panel. pdf icon[PDF-5.89MB]external icon
2Clinical Guidelines on the Identification, Evaluation, and Treatment of Overweight and Obesity in Adults. pdf icon[PDF-1.25MB]external icon
3Bhaskaran K, Douglas I, Forbes H, dos-Santos-Silva I, Leon DA, Smeeth L. Body-mass index and risk of 22 specific cancers: a population-based cohort study of 5•24 million UK adults. Lancet. 2014 Aug 30;384(9945):755-65. doi: 10.1016/S0140-6736(14)60892-8. Epub 2014 Aug 13.
4Kasen, Stephanie, et al. "Obesity and psychopathology in women: a three decade prospective study." International Journal of Obesity 32.3 (2008): 558-566.
5Luppino, Floriana S., et al. "Overweight, obesity, and depression: a systematic review and meta-analysis of longitudinal studies."Archives of general psychiatry 67.3 (2010): 220-229.
6Roberts, Robert E., et al. "Prospective association between obesity and depression: evidence from the Alameda County Study." International journal of obesity 27.4 (2003): 514-521.
Page last reviewed: 
February 20, 2020
email_03
Get Email Updates
To receive email updates about this topic, enter your email address.