Do the downloads!! Share!! The diffusion of very important information and knowledge is essential for the world progress always!! Thanks!!
– > Mestrado – Dissertation – Tabelas, Figuras e Gráficos – Tables, Figures and Graphics – ´´My´´ Dissertation @ #Innovation #energy #life #health #Countries #Time #Researches #Reference #Graphics #Ages #Age #Mice #People #Person #Mouse #Genetics #PersonalizedMedicine #Diagnosis #Prognosis #Treatment #Disease #UnknownDiseases #Future #VeryEfficientDrugs #VeryEfficientVaccines #VeryEfficientTherapeuticalSubstances #Tests #Laboratories #Investments #Details #HumanLongevity #DNA #Cell #Memory #Physiology #Nanomedicine #Nanotechnology #Biochemistry #NewMedicalDevices #GeneticEngineering #Internet #History #Science #World
Pathol Res Pract. 2012 Jul 15;208(7):377-81. doi: 10.1016/j.prp.2012.04.006. Epub 2012 Jun 8.
The influence of physical activity in the progression of experimental lung cancer in mice
Renato Batista Paceli 1, Rodrigo Nunes Cal, Carlos Henrique Ferreira dos Santos, José Antonio Cordeiro, Cassiano Merussi Neiva, Kazuo Kawano Nagamine, Patrícia Maluf Cury

Impact_Fator-wise_Top100Science_Journals
GRUPO_AF1 – GROUP AFA1 – Aerobic Physical Activity – Atividade Física Aeróbia – ´´My´´ Dissertation – Faculty of Medicine of Sao Jose do Rio Preto
GRUPO AFAN 1 – GROUP AFAN1 – Anaerobic Physical Activity – Atividade Física Anaeróbia – ´´My´´ Dissertation – Faculty of Medicine of Sao Jose do Rio Preto
GRUPO_AF2 – GROUP AFA2 – Aerobic Physical Activity – Atividade Física Aeróbia – ´´My´´ Dissertation – Faculty of Medicine of Sao Jose do Rio Preto
GRUPO AFAN 2 – GROUP AFAN 2 – Anaerobic Physical Activity – Atividade Física Anaeróbia – ´´My´´ Dissertation – Faculty of Medicine of Sao Jose do Rio Preto
Slides – mestrado – ´´My´´ Dissertation – Faculty of Medicine of Sao Jose do Rio Preto
CARCINÓGENO DMBA EM MODELOS EXPERIMENTAIS
DMBA CARCINOGEN IN EXPERIMENTAL MODELS
Avaliação da influência da atividade física aeróbia e anaeróbia na progressão do câncer de pulmão experimental – Summary – Resumo – ´´My´´ Dissertation – Faculty of Medicine of Sao Jose do Rio Preto
https://pubmed.ncbi.nlm.nih.gov/22683274/
Abstract
Lung cancer is one of the most incident neoplasms in the world, representing the main cause of mortality for cancer. Many epidemiologic studies have suggested that physical activity may reduce the risk of lung cancer, other works evaluate the effectiveness of the use of the physical activity in the suppression, remission and reduction of the recurrence of tumors. The aim of this study was to evaluate the effects of aerobic and anaerobic physical activity in the development and the progression of lung cancer. Lung tumors were induced with a dose of 3mg of urethane/kg, in 67 male Balb – C type mice, divided in three groups: group 1_24 mice treated with urethane and without physical activity; group 2_25 mice with urethane and subjected to aerobic swimming free exercise; group 3_18 mice with urethane, subjected to anaerobic swimming exercise with gradual loading 5-20% of body weight. All the animals were sacrificed after 20 weeks, and lung lesions were analyzed. The median number of lesions (nodules and hyperplasia) was 3.0 for group 1, 2.0 for group 2 and 1.5-3 (p=0.052). When comparing only the presence or absence of lesion, there was a decrease in the number of lesions in group 3 as compared with group 1 (p=0.03) but not in relation to group 2. There were no metastases or other changes in other organs. The anaerobic physical activity, but not aerobic, diminishes the incidence of experimental lung tumors.
Copyright © 2012 Elsevier GmbH. All rights reserved.
http://www.facebook.com http://www.forbes.com http://www.linkedin.com http://www.gmail.com http://www.yahoo.com http://www.harvard.edu http://www.mit.edu http://www.ucla.edu http://www.caltech.edu http://www.famerp.br http://www.uftm.edu http://www.stanford.edu http://www.youtube.com http://www.google.com http://www.instagram.com http://www.twitter.com https://exame.abril.com.br/
Facebook page about this blog: http://www.facebook.com/scientificblog
http://www.google.com https://kinsta.com/blog/linkedin-statistics/
https://www.socialmediatoday.com/news/linkedin-reaches-675-million-members-continues-to-see-record-levels-of-en/571435/
https://www.facebook.com/News-Today-101650601356563/
https://www.facebook.com/pg/News-Today-101650601356563/posts/?ref=page_internal
https://www.facebook.com/pg/News-Today-101650601356563/photos/?ref=page_internal
https://www.facebook.com/pg/News-Today-101650601356563/about/?ref=page_internal
https://www.facebook.com/pg/News-Today-101650601356563/reviews/?ref=page_internal
https://www.facebook.com/News-Today-101650601356563/?__xts__%5B0%5D=68.ARAOb6_hPU_W6K7HfglHuEi5geMsHjtFlIQmkGKiQNp41MNrV8crqn_GHWhW1Gyy7nk9uuwJO2ZU7sGqxZ4AN1r7yK4E729EM_G9CVQyiantnIBh-UJKDIf4Xcfnwn12Erldn7z2x6JVbQuy2pIeJXhZRNjPJtduYc8WO31cf-3RCmYAMYkb0UZ76mHpiYBKwk23A2Z5x8rm_9JgnLsRzZgJoShKl-vf7mScB8yv7UX340X_GH8fsrJbXwYLZghLWUKBnwZ36YW5CqfHjXjRa3V4yh1Q6nUxMevh
RodrigoHomeFind FriendsCreateFriend RequestsMessagesNotificationsAccount Settings
HomePostsReviewsPhotosAboutCommunityCreate a PageLikedFollowingShareMoreSend MessageNo Rating YetCommunitySee All
Invite your friends to like this Page
142 people like this
142 people follow thisAboutSee All
Suggest EditsPage TransparencySee MoreFacebook is showing information to help you better understand the purpose of a Page. See actions taken by the people who manage and post content.Page created – December 26, 2019English (US) · Português (Brasil) · Español · Français (France) · DeutschPrivacy · Terms · Advertising · Ad Choices · Cookies · MoreFacebook © 2020
Write a post…
Chat with friends
CONTACTS
Search
x
LinkedIn Reaches 675 Million Members, Continues to See 'Record Levels of Engagement'
AUTHOR
Andrew Hutchinson@adhutchinson
PUBLISHED
Jan. 31, 2020
SHARE IT
Microsoft has once again reported that LinkedIn saw 'record levels of engagement' over the last three months of 2019, while the platform also continues to expand its audience across the globe.
The findings are listed in Microsoft's FY20 Q2 report, which the company published this week, outlining its key performance highlights in the most recent period.
As per Microsoft:
"LinkedIn continues to create economic opportunity for every member of the global workforce – every seven seconds someone is hired on LinkedIn. We saw record levels of member engagement again this quarter. Marketing Solutions remains our fastest growing business as marketers leverage enhanced tools and LinkedIn Pages to connect with our nearly 675 million members."
675 million members is a new milestone for LinkedIn – back in November, the platform reported reaching 660 million total members, which would suggest that it's added another 15 million over the last three months.
Of course, 'total members' is not the same as 'active users', the more common measurement of social platform growth. But even so, the combination of more people signing up to the platform, along with rising engagement levels, points to strengthening performance for the social network, and may indicate LinkedIn's rising relevance in broader professional communications.
There has also been some criticism that LinkedIn is becoming a little too casual, with members posting overly personal or non business-relevant updates in order to fish for engagement. It's possible that such activity is helping to drive up on platform interaction, but it may still be worth giving the platform another look, and considering its potential fit within your social media approach.
On another front, Microsoft says that more than 5 million LinkedIn members have already completed LinkedIn's Skill Assessments, which it rolled out back in September.
Skill assessments provide another way for users to display their professional competencies, with knowledge tests and badges in key areas of interest.
Additionally, Microsoft notes that LinkedIn's operating expenditure increased by 12%, "driven by continued investment in LinkedIn and cloud engineering".
With Microsoft acquiring LinkedIn back in 2016, we lost access to LinkedIn's individual performance reports, which did provide more specific insight into usage levels, member numbers, etc. Now, with LinkedIn's performance figures incorporated into Microsoft's larger report, we don't get as much insight, but based on the data available, the indicators suggest that LinkedIn's performance is rising, which is likely worth noting in your plans.
Follow Andrew Hutchinson on Twitter
Filed Under: Digital StrategySocial Media Updates
How to Reduce Overstock and Grow Your Business With Collaborative Analytics
Find out how resourceful retailers are making the most of an increasingly digital trail of customer behavior by embracing data and using it to grow their businesses.Download now
GET THE NEWSLETTER
Subscribe to Social Media Today to get the must-read news & insights in your inbox.Email:
Sign up
By signing up you agree to our privacy policy. You can opt out anytime.
STAFF PICKS
Get Social Media Today in your inbox
The free newsletter covering the top industry headlinesEmail:
Sign up
By signing up you agree to our privacy policy. You can opt out anytime.
---
EXPLORE
RELATED PUBLICATIONS
FOLLOW
FEEDBACK
Work email: *Message: *Submit
---
© 2020 Industry Dive. All rights reserved. | View our other publications | Privacy policy | Terms of use | Take down policy.

NEWBoost your WordPress site's speed up to 200% just by moving to Kinsta. 🔥Premium Managed WordPress Hosting
Mind-Blowing LinkedIn Statistics and Facts (2020)
By Maddy Osman • Updated on January 1, 2020
Facebook may be the largest social networking site in the world today, but LinkedIn has been supporting its users for a longer time period. And more importantly for those looking to network and develop business connections, LinkedIn users know the platform as the "professional social networking site."
In a world where technology is rapidly changing, the longevity of the tech company, which was founded in 2002, is a tribute to its utility and dominance within its niche in social media.
In fact, the search intent of the term "LinkedIn" has more than doubled in the last 10 years. And, when it comes to interesting LinkedIn statistics and LinkedIn facts, there is a surprising abundance.Boost your WordPress site's speed up to 200% just by moving to Kinsta.MIGRATE TODAY FOR FREE
Google Search Trends – LinkedIn
Digging into LinkedIn Demographics
LinkedIn has over 575+ million users, with more than 260 million monthly active users.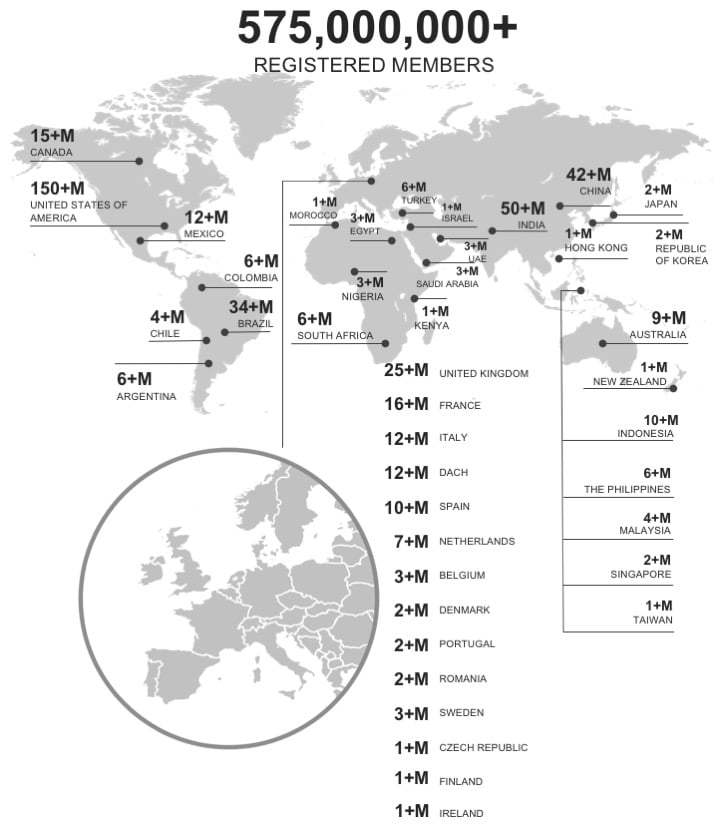 LinkedIn registered users
Of those LinkedIn users who are engaging with the platform monthly, 40% access it on a daily basis. However, LinkedIn is used sparingly, so you only have a few minutes to make an impact. Users only spend about 17 minutes on LinkedIn per month.
According to the Pew Research Center 2018 Social Media Use study, LinkedIn remains popular with college students. Further research into these LinkedIn statistics revealed that 50% of college graduates in the US are LinkedIn users, while the site engages with only 9% of people whose education doesn't surpass high school.
Additionally, 44% of LinkedIn users take home more than $75,000 per year, which is above the national median in the US.
Although the US has the most LinkedIn users at 133 million, 70% of LinkedIn users are from outside of the US.
Along gender lines, LinkedIn is more popular with men, who comprise 57% of its users base. And, interestingly, millennials make up 38% of LinkedIn's user base, with 11 million of the 87 million millennials in decision-making positions.
LinkedIn Revenue: The Financial Facts
Microsoft, recognizing the value of LinkedIn, acquired the company for $26.2 billion in 2016. However, unlike many other social media platforms, which rely on advertisements, LinkedIn's services are something for which users are willing to pay.
A total of 39% of LinkedIn users pay for LinkedIn Premium, which has four price tiers:
Premium Career: $29.99/month
Premium Business: $59.99/month
Sales Navigator Pro: $79.99/month
Recruiter Lite (Hiring): $119.95/month

LinkedIn plans
Premium Career is best for those looking for jobs. It gives you access to five InMail messages per month and in-demand videos, as well as the ability to see who viewed your profile, how many searches you've appeared in, and additional information on posted jobs (including salary).
The other tiers include essentially the same basic features but then go a step or two further. Premium Business gives you additional information about businesses and unlimited people searches; Sales Navigator Pro gives you advanced search filters, access to different sales tools, and the ability to make notes on user profiles; and Recruiter Lite gives you guided search smart suggestions and more recruiter-focused tools.
No matter which Premium account you buy, you'll have access to improved metrics and various ways to achieve LinkedIn growth.
Generating Leads on LinkedIn
LinkedIn is an especially good source for discovering leads. Hubspot found that LinkedIn is 277% more effective at generating leads than Facebook and Twitter.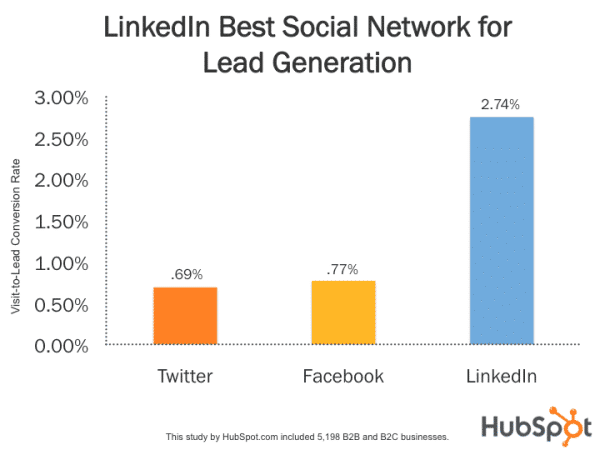 Linkedin lead generation (Image source: HubSpot)
Given this, it's no surprise that 79% of marketers see LinkedIn as a very good source of leads, with 43% of marketers saying they have sourced at least one customer from LinkedIn. That number increases for B2B marketers, who report that 80% of their social media leads come from LinkedIn.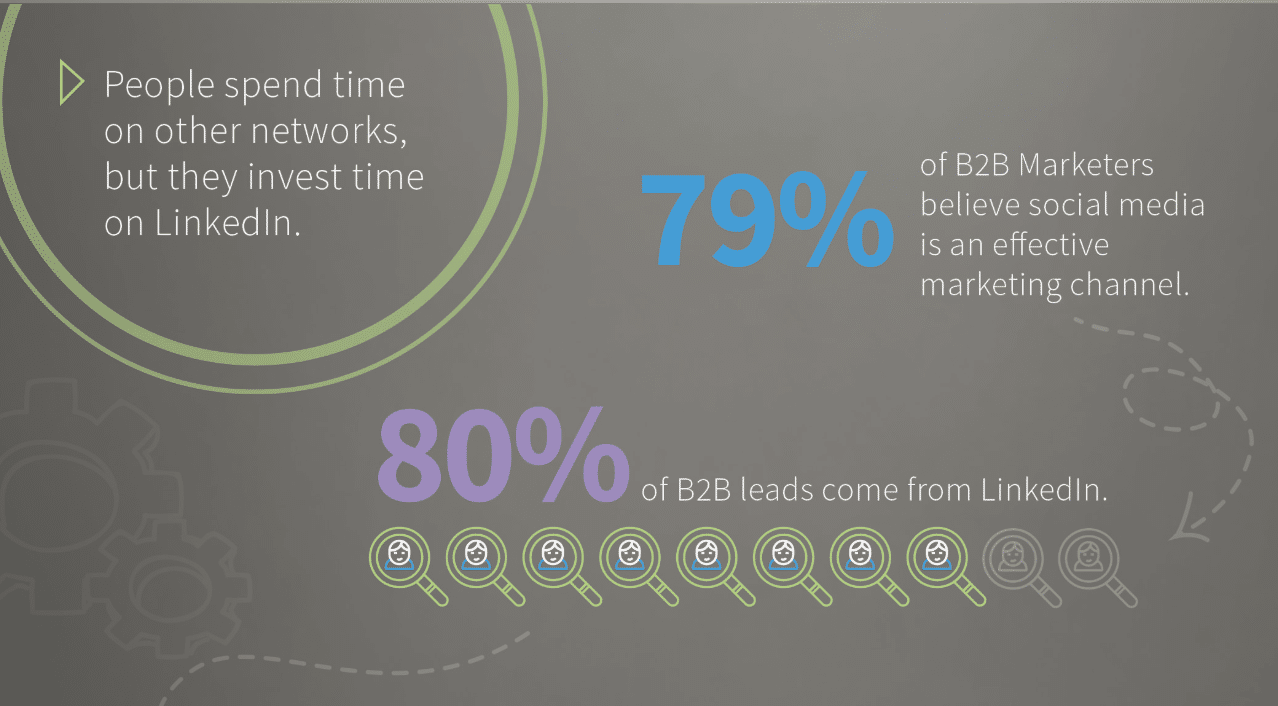 B2B LinkedIn leads (Image source: LinkedIn)
Racking up Points for Recruitment
The other primary reason LinkedIn users are active on the platforms is for job recruitment efforts. With more than 20 million companies listed on the site and 14 million open jobs, it's no surprise to find out that 90% of recruiters regularly use LinkedIn.
[pic too large]
In fact, a study found that 122 million people received an interview through LinkedIn, with 35.5 million having been hired by a person they connected with on the site.
One good LinkedIn stat for recruiters is that employees sourced through the site are 40% less likely to leave the company within the first 6 months.
A Primer on LinkedIn Profile Optimization
Because of LinkedIn's ability to recognize boolean operators and filter results according to metrics such as company, number of years of experience, function, and seniority level, the platform easily tops its competitors for helping people make essential business connections.
However, despite the advanced search capabilities, you will still want to optimize your LinkedIn profile (suggested reading: How to Create a Company Page on LinkedIn). The first step for doing this is adding a professional photo, which on average will get a user 14 times more views than other types of profile pictures.
To boost your connection requests by fivefold, make sure you list your current position. And, don't forget to list at least five relevant skills, as doing so increases the chance that your profile will be discovered and someone will message you by more than 31 times what you would get if you didn't.How To Tell Your #workstory from LinkedIn
Fun LinkedIn Statistics About New Features
After Microsoft stepped in, LinkedIn introduced several new features, such as Showcase pages. This extension of business pages is designed to highlight your company's business unit or initiative.
LinkedIn also introduced a calendar chatbot, which syncs the calendars of two LinkedIn users so they can meet up. This is especially helpful for people wanting to connect with others in different time zones. Although a chatbot feature has yet to be implemented on LinkedIn, AI technology has already made its way to the platform in the form of smart replies, or suggested responses.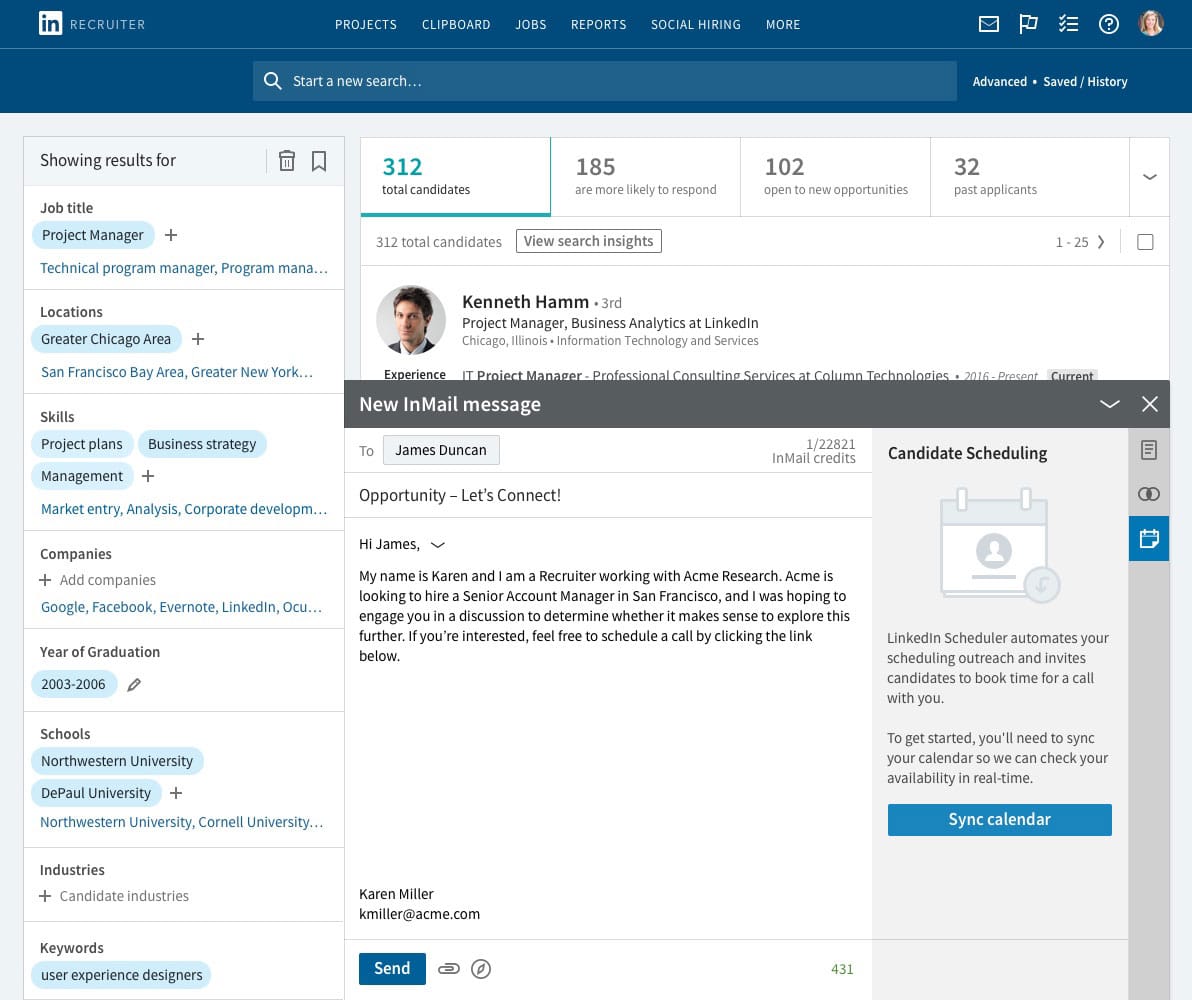 LinkedIn Scheduler (Image source: LinkedIn)
Additionally, LinkedIn also rolled out messaging, which allows users to send InMail in the form of chats, rather than with the email formatting, which cuts down on excessive clicking. This feature also includes sponsored messages.
Content Creators Make Use of LinkedIn
LinkedIn allows you to share different types of content. Articles, which can be posted on your profile or on LinkedIn Pulse, links to your website, slideshows, and video are among the most popular types of content LinkedIn users post.
Content on the LinkedIn feed receives about 9 billion impressions per week, but only 3 million users (out of the more than 500 million) share content on a weekly basis. This means that only about 1% of LinkedIn's 260 million monthly users share posts, and those 3 million or so users net the 9 billion impressions.
LinkedIn drives more than 50% of social traffic to B2B sites and is considered the most credible source of content. So, it is no surprise that 98% of content marketers use LinkedIn for content marketing, especially for B2B marketing and lead generation.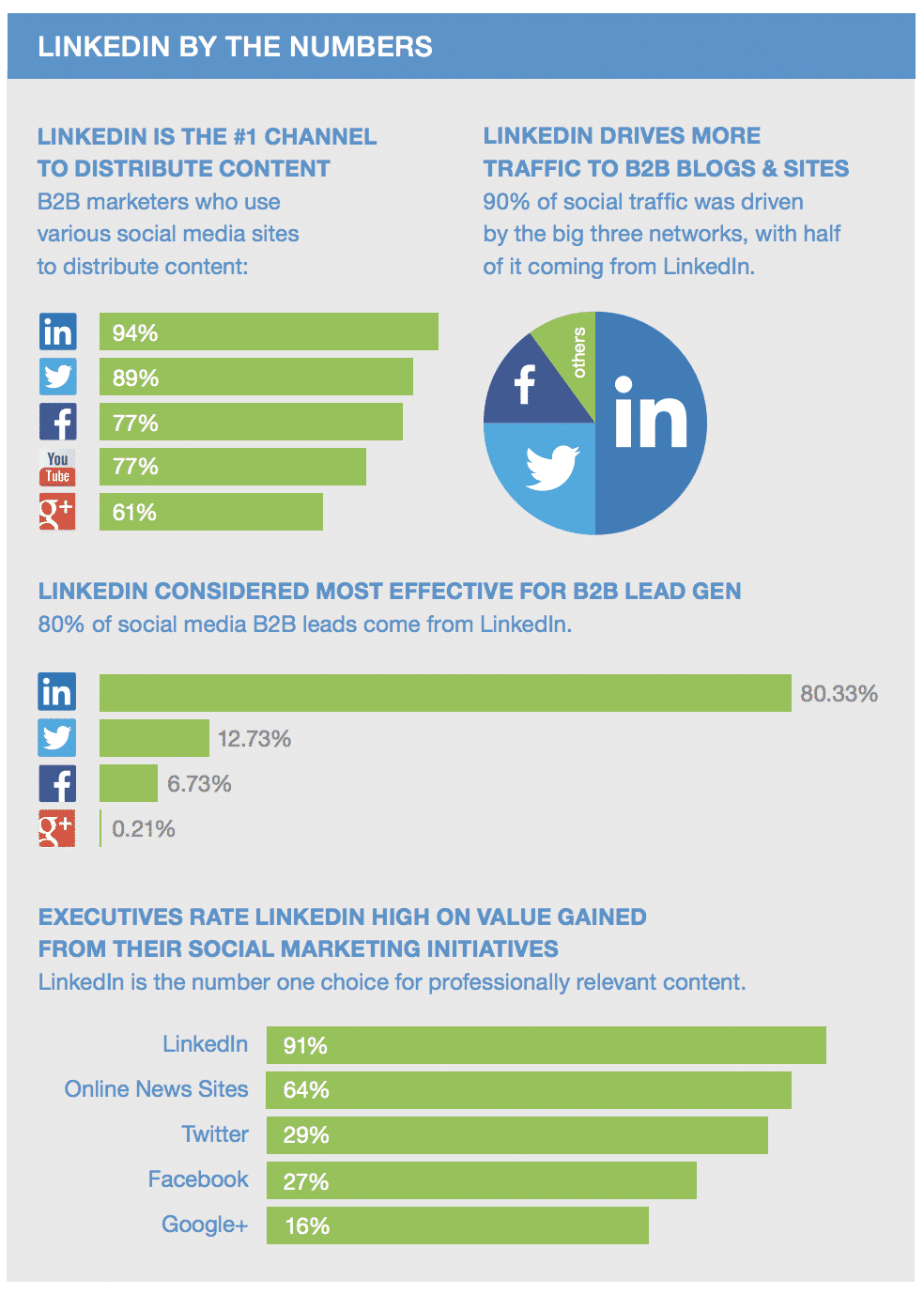 LinkedIn statistics
A study by OkDork, which analyzed more than 3,000 LinkedIn posts, found that "how-to" and list posts performed best, especially those with titles that had 40-49 characters. Additionally, it found that posts with five headings had the most views. It also revealed that long-form content (1,900-2,000 words) performed the best, as well as content with eight images.
Just don't get us started on the LinkedIn stats behind using "broetry"—multiple one line sentences that are probably as annoying to write as they are to read.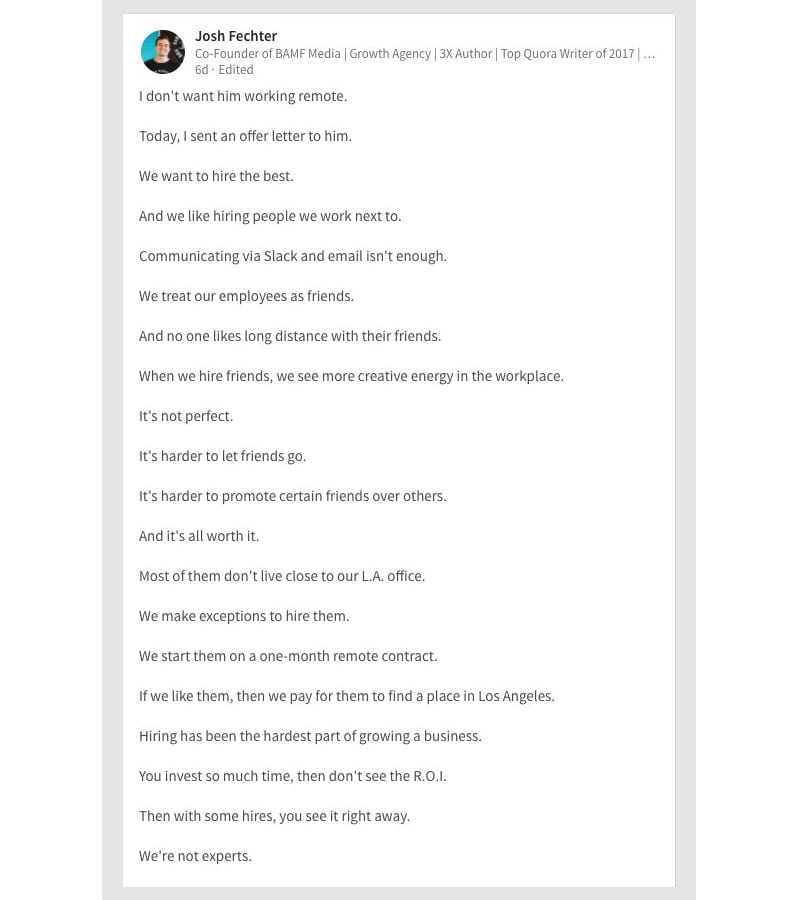 LinkedIn broetry
Supporting the idea that images improve your posts' popularity is the fact that including photos increases the comment rate by 98 percent. Time and time again, we see that a visual content strategy just works.
Now, one interesting fact that you might not be able to tease out of your own posting results is that content published on Thursday tends to perform the best.
Thankfully, you don't have to be a LinkedIn influencer to have your content perform well. Of the 10,000 most shared posts on LinkedIn between 2012 and 2016, only 6% were written by LinkedIn influencers.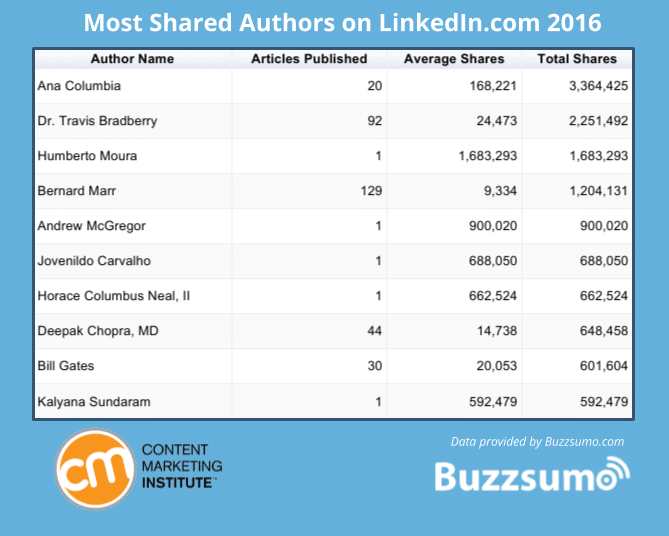 Most shared authors on LinkedIn (Image source: Content Marketing Institute)
LinkedIn Video is a Victory
Mark Zuckerberg proclaimed video as 'the next megatrend', with platforms such as Facebook, Instagram, Twitter, YouTube, and Snapchat making it easier for users to upload video content.
LinkedIn wasn't about to be left behind, especially because it was discovered that if the content was found in both video and written format, 59% of executives said they would choose to consume it via video.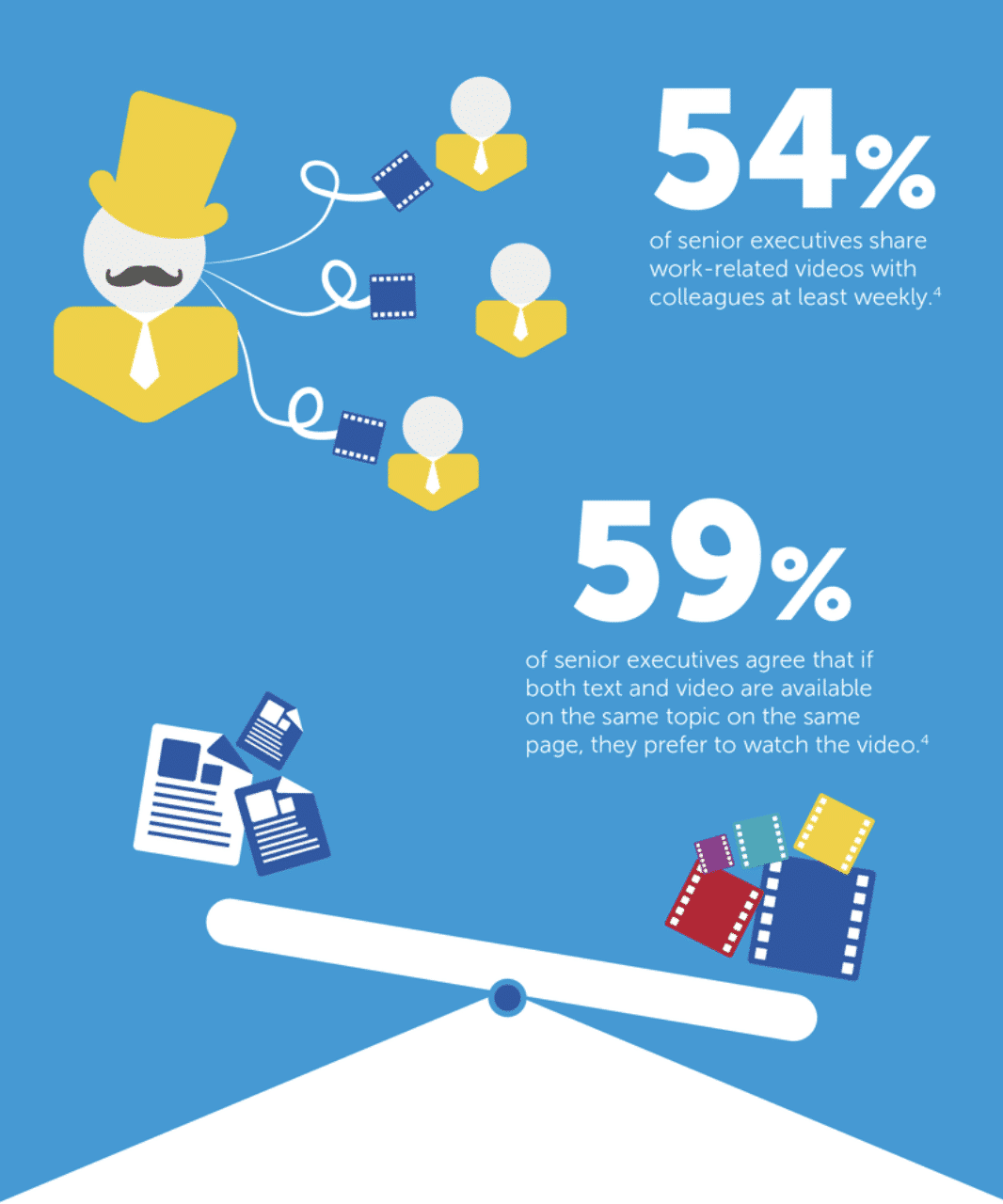 Video consumption on LinkedIn (Image source: MWP Digital Media)
At one point, LinkedIn users could only embed video content from other sources. However, LinkedIn has now made it possible to upload native videos through the mobile app. This move allows LinkedIn users to see a more "human" side of businesses, making the brands behind them more approachable.
In fact, LinkedIn Video was named one of the most effective platforms for video marketing, though only 28% of marketers agree. That 28% might seem weak, but given that LinkedIn Video was only rolled out for users in August 2017, it's actually pretty impressive that so many agree already.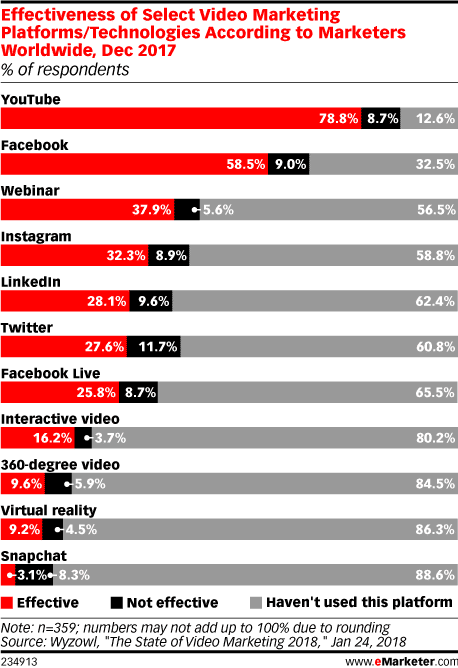 LinkedIn statistics on video (Image source: eMarketer)
Since then, LinkedIn has introduced filters for videos, as well as native video ads as part of sponsored content offerings. This enables businesses to share their own video content. Prior to this, video content was only available for individual member user accounts.
What differentiates video ads from others is that you can choose from a number of targeting options, such as job title, location, and company size. You can also apply advanced features, such as remarketing and matched audience integration.
Since the beta launch of Sponsored Content, LinkedIn reports that users spent three times more time watching videos than viewing static content. During the limited or beta release of LinkedIn Video, it was found that videos were shared 20 times more than any other type of content.
Final Thoughts: Mind-Blowing LinkedIn Statistics and Facts
Have your facts straight when it comes to some of the wild LinkedIn stats that support the idea that the social media platform will continue to dominate?
From about 3 million users banking in on the 9 billion impressions per month, to the realization that even LinkedIn statistics support Zuckerberg's proclamation that video is the next megatrend, it's clear that there is a lot to know about who is using the platform and why they're doing so.
Have any of your own interesting LinkedIn statistics to share? Post them in the comments below!456Shares
If you enjoyed this article, then you'll love Kinsta's WordPress hosting platform. Turbocharge your website and get 24/7 support from our veteran WordPress team. Our Google Cloud powered infrastructure focuses on auto-scaling, performance, and security. Let us show you the Kinsta difference! Check out our plans
Hand-picked related articles
Comments
Leave a Reply
Comment policy: We love comments and appreciate the time that readers spend to share ideas and give feedback. However, all comments are manually moderated and those deemed to be spam or solely promotional will be deleted.
Comment
Name
EmailI agree to the Terms and Conditions and Privacy PolicyNEW & FEATUREDHow to Speed up Your WordPress Site
This longread article has all our 15+ years of experience. From beginner tips to advanced strategies, you'll find something useful that you can use today.Features
Compare Kinsta
© 2020 Kinsta Inc. All rights reserved.
Kinsta® and WordPress® are registered trademarks.DanskDeutschEnglishEspañolFrançaisItalianoNederlands日本語PortuguêsSvenska