Do the downloads!! Share!! The diffusion of very important information and knowledge is essential for the world progress always!! Thanks!!
– > Mestrado – Dissertation – Tabelas, Figuras e Gráficos – Tables, Figures and Graphics – ´´My´´ Dissertation @ #Innovation #energy #life #health #Countries #Time #Researches #Reference #Graphics #Ages #Age #Mice #People #Person #Mouse #Genetics #PersonalizedMedicine #Diagnosis #Prognosis #Treatment #Disease #UnknownDiseases #Future #VeryEfficientDrugs #VeryEfficientVaccines #VeryEfficientTherapeuticalSubstances #Tests #Laboratories #Investments #Details #HumanLongevity #DNA #Cell #Memory #Physiology #Nanomedicine #Nanotechnology #Biochemistry #NewMedicalDevices #GeneticEngineering #Internet #History #Science #World
Pathol Res Pract. 2012 Jul 15;208(7):377-81. doi: 10.1016/j.prp.2012.04.006. Epub 2012 Jun 8.
The influence of physical activity in the progression of experimental lung cancer in mice
Renato Batista Paceli 1, Rodrigo Nunes Cal, Carlos Henrique Ferreira dos Santos, José Antonio Cordeiro, Cassiano Merussi Neiva, Kazuo Kawano Nagamine, Patrícia Maluf Cury

Impact_Fator-wise_Top100Science_Journals
GRUPO_AF1 – GROUP AFA1 – Aerobic Physical Activity – Atividade Física Aeróbia – ´´My´´ Dissertation – Faculty of Medicine of Sao Jose do Rio Preto
GRUPO AFAN 1 – GROUP AFAN1 – Anaerobic Physical Activity – Atividade Física Anaeróbia – ´´My´´ Dissertation – Faculty of Medicine of Sao Jose do Rio Preto
GRUPO_AF2 – GROUP AFA2 – Aerobic Physical Activity – Atividade Física Aeróbia – ´´My´´ Dissertation – Faculty of Medicine of Sao Jose do Rio Preto
GRUPO AFAN 2 – GROUP AFAN 2 – Anaerobic Physical Activity – Atividade Física Anaeróbia – ´´My´´ Dissertation – Faculty of Medicine of Sao Jose do Rio Preto
Slides – mestrado – ´´My´´ Dissertation – Faculty of Medicine of Sao Jose do Rio Preto
CARCINÓGENO DMBA EM MODELOS EXPERIMENTAIS
DMBA CARCINOGEN IN EXPERIMENTAL MODELS
Avaliação da influência da atividade física aeróbia e anaeróbia na progressão do câncer de pulmão experimental – Summary – Resumo – ´´My´´ Dissertation – Faculty of Medicine of Sao Jose do Rio Preto
https://pubmed.ncbi.nlm.nih.gov/22683274/
Abstract
Lung cancer is one of the most incident neoplasms in the world, representing the main cause of mortality for cancer. Many epidemiologic studies have suggested that physical activity may reduce the risk of lung cancer, other works evaluate the effectiveness of the use of the physical activity in the suppression, remission and reduction of the recurrence of tumors. The aim of this study was to evaluate the effects of aerobic and anaerobic physical activity in the development and the progression of lung cancer. Lung tumors were induced with a dose of 3mg of urethane/kg, in 67 male Balb – C type mice, divided in three groups: group 1_24 mice treated with urethane and without physical activity; group 2_25 mice with urethane and subjected to aerobic swimming free exercise; group 3_18 mice with urethane, subjected to anaerobic swimming exercise with gradual loading 5-20% of body weight. All the animals were sacrificed after 20 weeks, and lung lesions were analyzed. The median number of lesions (nodules and hyperplasia) was 3.0 for group 1, 2.0 for group 2 and 1.5-3 (p=0.052). When comparing only the presence or absence of lesion, there was a decrease in the number of lesions in group 3 as compared with group 1 (p=0.03) but not in relation to group 2. There were no metastases or other changes in other organs. The anaerobic physical activity, but not aerobic, diminishes the incidence of experimental lung tumors.
Copyright © 2012 Elsevier GmbH. All rights reserved.
& Websites – VIRTUAL – GAME – JOGO – E-mails – SITE – CHAT – SERIEDADE – SERIOUSNESS – SURE – CERTEZA – RESPECT – PERSON – PEOPLE – NOME – NAME – SUBJECT – ASSUNTO – PENSAMENTO – CLICK – THINKING – PESSOAS – PESSOA – PERSON – PHOTOS – VIDEOS – NAMES – ASSUNTOS – SUBJECTS – RESPECT – USA – EU – LEITURA – E-MAIL – WAYS – CAMINHOS – DATA – DIA – IDENTIFICATION – FACILITY – FACILIDADE – READING – TEAM – EQUIPE – ANÁLISE – ANALYSIS – PAÍS – COUNTRY – RANKING – ECONOMY – ECONOMIA – MENTAL HEALTH – SAÚDE MENTAL – WORK – TRABALHO – FEELINGS – SENTIMENTOS – INDUCTION – FALA – WORDS – PERSONAGEM – OPINION – SITUATIONS – IMAGINATIONS – INDUÇÃO – PERSONAGE – PALAVRAS – SUPOSITIONS – MIND – MENTE – REAL – VIRTUAL – CERTEZA – SURE – SITUATIONS – INDUCED SITUATIONS – SITUAÇÕES INDUZIDAS – SERIOUSNESS – SUPOSIÇÕES – SITUAÇÕES – VISION – TIME – AGE – MIND – WORDS – ENERGY – COUNTRIES – Information – Messages – Reading – SPEAK – WRITE – Probability – Improvement – Time – Intentions – TYPE – Actions – Technologies – News – Interpretations – Thoughts – Internet Society – City – COUNTRIES – Cities – Protection – Internet – Longevity – Complexity – REALITY – TEMPO – VIRTUALITY – HISTORY – WORLD @
COVID-19 vaccine protects monkeys from new coronavirus, Chinese biotech reports – By Jon CohenApr. 23, 2020 , 1:05 PM #@
How do blood pressure medications affect coronavirus patients? Specialists hope to crack the code Michael Walter | April 23, 2020 | Hypertension @ COVID-19 herd immunity isn't happening any time soon Both our current actions and our immune responses will play a role in population immunity. Kate Baggaley – April 22, 2020
@ ´´My best teachers were not the ones who knew all the answers, but those who were deeply excited by questions they could not answer´´ Brian Greene – Director Center for Theoretical Physics Columbia University New York, NY 10027 Email: assistant@worldsciencefestival.com Phone: 917.281.5789 – http://www.briangreene.org/contact/ @ http://www.briangreene.org & https://www.columbia.edu/ Columbia University in the City of New York
Contact
assistant@worldsciencefestival.com
https://hms.harvard.edu/news/smothering-fire
Missouri scientist identifies four possible treatments for COVID-19
https://teletype.in/@gausakh/CO98O_biK?fbclid=IwAR3ELFDy8srFgNMAxdt2XLZQi5WF7yqZHfiZ3TAJGhAz-hOHUfJI1JJKqyg
Life in space
https://medicalxpress.com/news/2020-04-chinese-biotech-firm-coronavirus-vaccine.html?fbclid=IwAR0cgsrptgZK83hrMbWRl_N8sFIx_LgHFv1MClbc3_aOYTm0mCw4S5MS_JI
https://www.sciencemag.org/news/2020/04/covid-19-vaccine-protects-monkeys-new-coronavirus-chinese-biotech-reports?fbclid=IwAR0v_PzCQC2SeGOiDRC1RAmRHNRVDBiNw9DX3h5RFN-RpSYSvIBBTgkmgqo
https://www.popsci.com/story/health/herd-immunity-covid-19-coronavirus/?fbclid=IwAR0hhAuFMLeo5yBL7zNszYXc2aiJ47ffkv1iEnYov4DkYBjHavjas4-Z0rw
https://theconversation.com/heres-how-scientists-are-tracking-the-genetic-evolution-of-covid-19-134201?fbclid=IwAR0DcitNZ9pJXvuhHZ5-dyyYtfb8eV5M2BSILaG2MCpdIP2y0fFG1LA_tGQ
https://www.cardiovascularbusiness.com/topics/hypertension/blood-pressure-covid-19-clinical-trial-hypertension
Academic rigor, journalistic flair
When you hear the term "evolutionary tree," you may think of Charles Darwin and the study of the relationships between different species over the span of millions of years.
While the concept of an "evolutionary tree" originated in Darwin's "On the Origin of Species," one can apply this concept to anything that evolves, including viruses. Scientists can study the evolution of SARS-CoV-2 to learn more about how the genes of the virus function. It is also useful to make inferences about the spread of the virus around the world, and what type of vaccine may be most effective.
I am a bioinformatician who studies the relationships between epidemics and viral evolution, and I am among the many researchers now studying the evolution of SARS-CoV-2 because it can help researchers and public health officials track the spread of the virus over time. What we are finding is that the SARS-CoV-2 virus appears to be mutating more slowly than the seasonal flu which may allow scientists to develop a vaccine.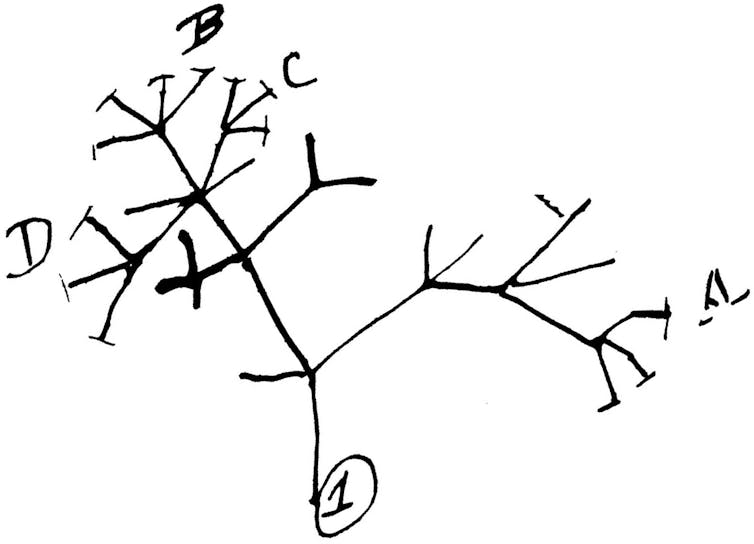 How do sequences evolve?
Viruses evolve by mutating. That is, there are changes in their genetic code over time. The way it happens is a little like that game of telephone. Amy is the first player, and her word is "CAT." She whispers her word to Ben, who accidentally hears "MAT." Ben whispers his word to Carlos, who hears "MAD." As the game of telephone goes on, the word will transform further and further away from its original form.
We can think of a biological genetic material as a sequence of letters, and over time, sequences mutate: The letters of the sequence can change. Scientists have developed various models of sequence evolution to help them study how mutations occur over time.
Much like our game of telephone, the genome sequence of the SARS-CoV-2 virus changes over time: Mutations occur randomly, and any changes that occur in a given virus will be inherited by all copies of the next generation. Then, much as we could try to decode how "CAT" became "MAD," scientists can use models on genetic evolution to try to determine the most likely evolutionary history of the virus.
How can we apply this to viruses like COVID-19?
DNA sequencing is the process of experimentally finding the sequence of nucleotides (A, C, G and T) – the chemical building blocks of genes – of a piece of DNA. DNA sequencing is largely used to study human diseases and genetics, but in recent years, sequencing has become a routine part of viral point of care, and as sequencing becomes cheaper and cheaper, viral sequencing will become even more frequent as time progresses.
RNA is a molecule similar to DNA, and it is essentially a temporary copy of a short segment of DNA. Specifically, in the central dogma of biology, DNA is transcribed into RNA. SARS-CoV-2 is an RNA virus, meaning our DNA sequencing technologies cannot directly decode its sequence. However, scientists can first reverse transcribe the RNA of the virus into complementary DNA (or cDNA), which can then be sequenced.
Given a collection of viral genome sequences, we can use our models of sequence evolution to predict the virus's history, and we can use this to answer questions like, "How fast do mutations occur?" or "Where in the genome do mutations occur?" Knowing which genes are mutating frequently can be useful in drug design.
Tracking how viruses have changed in a location can also answer questions like, "How many separate outbreaks exist in my community?" This type of information can help public health officials contain the spread of the virus.
For COVID-19, there has been a global initiative to share viral genomes with all scientists. Given a collection of sequences with sample dates, scientists can infer the evolutionary history of the samples in real-time and use the information to infer the history of transmissions.
One such initiative is Nextstrain, an open-source project that provides users real-time reports of the spread of seasonal influenza, Ebola and many other infectious diseases. Most recently, it has been spearheading the evolutionary tracking of COVID-19 by providing a real-time analysis as well as a situation report meant to be readable by the general public. Further, the project enables the global population to benefit from its efforts by translating the situation report to many other languages.
As the amount of available information grows, scientists need faster tools to be able to crunch the numbers. My lab at UC San Diego, in collaboration with the System Energy Efficiency (SEE) Lab led by Professor Tajana Šimunić Rosing, is working to create new algorithms, software tools and computer hardware to make the real-time analysis of the COVID-19 epidemic more feasible.

What have we learned about the epidemic?
Based on current data, it seems as though SARS-CoV-2 mutates much more slowly than the seasonal flu. Specifically, SARS-CoV-2 seems to have a mutation rate of less than 25 mutations per year, whereas the seasonal flu has a mutation rate of almost 50 mutations per year.
Given that the SARS-CoV-2 genome is almost twice as large as the seasonal flu genome, it seems as though the seasonal flu mutates roughly four times as fast as SARS-CoV-2. The fact that the seasonal flu mutates so quickly is precisely why it is able to evade our vaccines, so the significantly slower mutation rate of SARS-CoV-2 gives us hope for the potential development of effective long-lasting vaccines against the virus.
[Get facts about coronavirus and the latest research. Sign up for The Conversation's newsletter.]
Want to write?
Write an article and join a growing community of more than 102,400 academics and researchers from 3,270 institutions.